Elements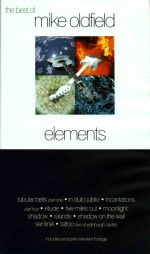 Virgin Records Ltd.
1993

Vydáno: říjen 1993
Vydavatel: Virgin Records Ltd.
Původní edice: vhs 088 456-1 (PolyGram Music Video, 1993), laserdisk POLP-1016 (Vision Video JP, 1993)

Hudba a text: Mike Oldfield kromě In Dulci Jubilo - Robert Lucas Pearsall a Étude - Francisco Tárrega
Přibližný čas záznamu: 52 minut

Video Elements vyšlo přibližně měsíc po albu The best of Elements. Obsahuje klipy některých hitů a dálší videa doprovázející oldfieldovu hudbu. Mezi skladbami je interview s Mikem Oldfieldem.