Elements DVD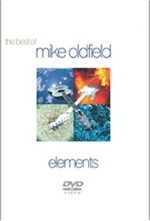 Virgin Records Ltd.
2004

Vydáno: 29.11. 2004
Vydavatel: Virgin Records Ltd.
Původní edice: dvd MIKEDVD1 (EMI RECORDS (UK))

Hudba a text: Mike Oldfield kromě Don Alfonso - Ted Waite; In Dulci Jubilo - Robert Lucas Pearsall; Portsmouth - lidová; William Tell Overture - Gioacchino Rossini a Étude - Francisco Tárrega

Parametry DVD
Formát disku: DVD 9
Formát obrazu: PAL 4:3, barevný
Formát zvuku: Dolby Digital Stereo
Přístupnost: volná

Výběrové DVD album Elements je určeno převážně pro všechny sběratele rarit. Obsahuje totiž mnoho klipů v DVD kvalitě, které oficiálně nikdy nevyšly. Za zmínku stojí řada tradicionálů, Tubular Bells part 1, Trick Of The Light, Innocent, The Space Movie atd. Nicméně na DVD si pokoukají všichni přiznivci Mika Oldfielda bez rozdílu.